Your events and internal communication agency in Paris, in the Ile-de-France Region (75)
The Sag Touch, for an internal and events communication company like none other
Meet the team at our Paris agency
The Sagarmatha Paris agency is a melting pot of talents from all walks of life, who continue, though already long-settled in Paris, to define themselves as people of Marseille, Lyon, Brittany….
Some have taken up quarters in the heart of Paris, others to the East, gravitating towards Vincennes or Montreuil, and still others to the West, opting for Neuilly, Levallois or Clichy. The question of whose neighbourhood is the best place to live continues to stir debate.
Whichever that may be, for all of them, heading to the office in downtown Paris daily, between Bourse and Grands Boulevards, is convenient and easy! In a profession that has us constantly on the move, with work sessions off-site, at client offices, at our key suppliers' offices, in cafes or co-working spaces between appointments, working environment and access are key for greater efficiency and enthusiasm, and more smiles and successes.
In Paris, each of our talents, in addition to their core activities, takes on active watch responsibilities in the field of their choice, gathering intelligence on anything from  event logistics such as, venue sourcing, caterers, scenography, digital, video production, collaborative and artistic design, collective intelligence methods, inspiring speakers and beyond…
In the day-to-day, working in interaction with the other talents at Groupe Hopscotch, the Paris team has developed great gusto for corporate communication consulting and more specifically for internal communications projects with a strong editorial and digital slant, to strengthen employee engagement for event projects : from content design to web design services, engagement plans leveraging our clients' internal digital platforms or on tailor-made platforms, and often making use of collaboration tools based in our clients' work environments.
The team delights in giving experiences and concepts their first test runs.
Two of our Paris talents have become part of the Group's Strikers Team, joining up with a talent from Lille to be contributors and ambassadors to "the methods to end all methods".
If you want to find out more about the team's talents, come meet Julie Lebre, Project Manager on the Paris Team, who is interviewed on our Welcome to the Jungle.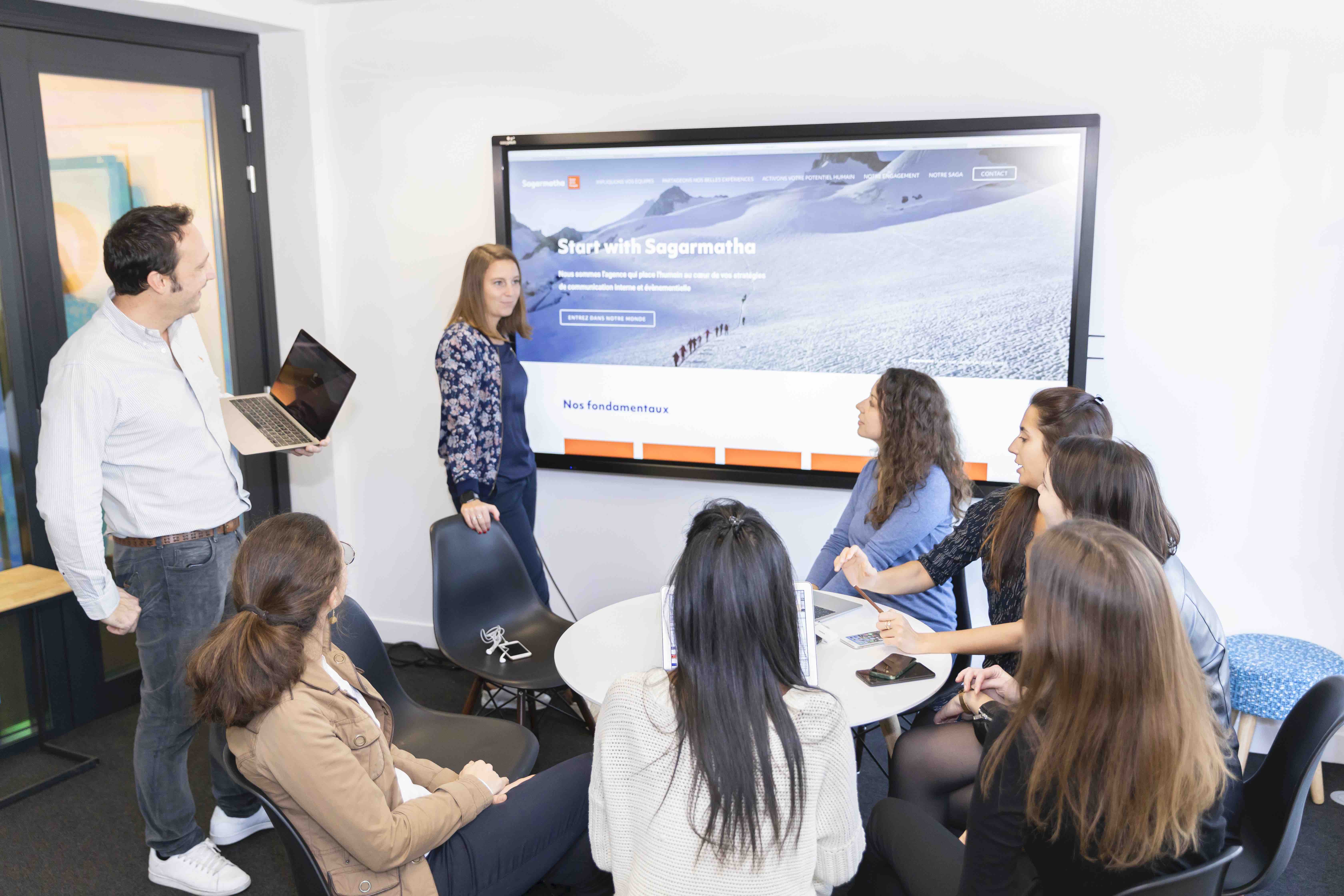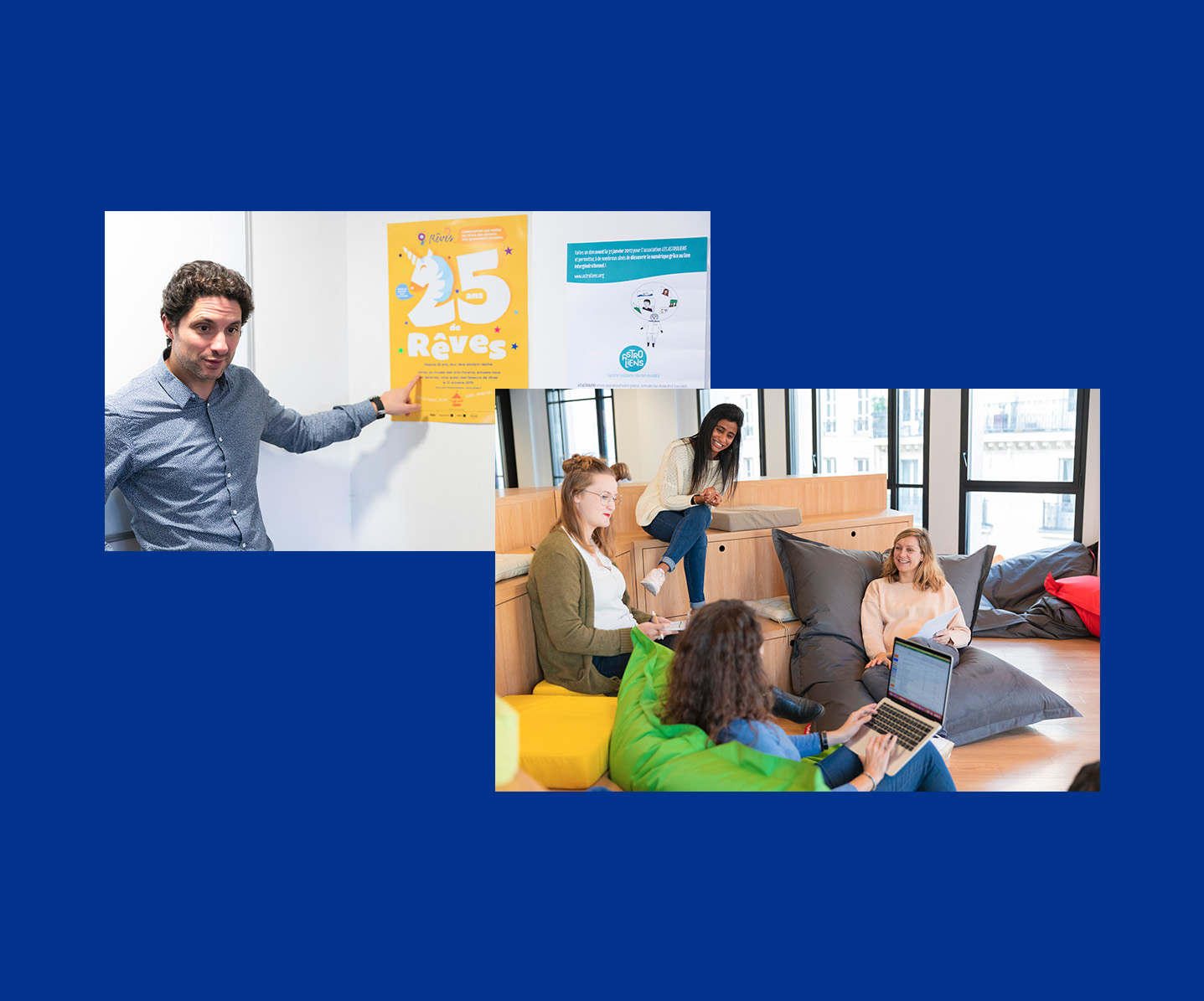 Our expertise as an event and internal communications agency
Incorporated into the Group's flagship structure, the team at Sagarmatha Paris grew up in the unique relational ecosystem formed by the Group, a historical event organiser that makes its inspiration heard through 3 powerful amplifiers: Live, Digital and PR.
These close ties enable us to work together on cross-disciplinary projects with other teams or agencies of the Group with a strong digital dimension and "Reputation Design", i.e. an expanded vision of PR and influence.
The team has also developed strong skills in building engagement plans that mobilise teams around CSR (Corporate Social Responsibility) commitments, all thanks to an intrapraneur, Anne-Christine Poirot, currently extrapreneur in the field of pedagogical communication and education. The inclusion topics disability, diversity, solidarity and zero carbon impact are amongst those that most captivate the interest of our consulting project managers and directors.
Our Paris agency's network
The players that make up the sustainable development ecosystem are a strength for the Paris network on which we draw, and to which we also lend our support.
Former co-workers such Margaux Dufau, a recent finalist in the Google Impact Challenge, with her initiative 'Les Astroliens' are taking action, through their associations, to put digital within everyone's reach, across generations.
For several years now, we have also been working with Phenix, which has set its base camp in Paris' 17th arrondissement, to work on fighting waste. We work in cooperation, when necessary, to run awareness-raising for non-receptive suppliers.
Through events such as the We love Green Festival in Paris at Bois de Vincennes, the spotlight is shined on engaged players and Green Tech start-ups, intensifying our desire to get involved, commit and participate, in a space and environment designed to be creative, artistic and cultural.
We work daily with the key players in collective intelligence and collaborative innovation, including the teams at Beeshake, the teams at Bluenove, decisive independent talents, and more.
Sharing the beliefs of the APM, our leaders make the time to share their experiences there through the regional networks, such as the APM Club Paris Ponant, Ouest Side Paris, as well as take an active part in the key discussion sessions run by the professional association L'Evenement.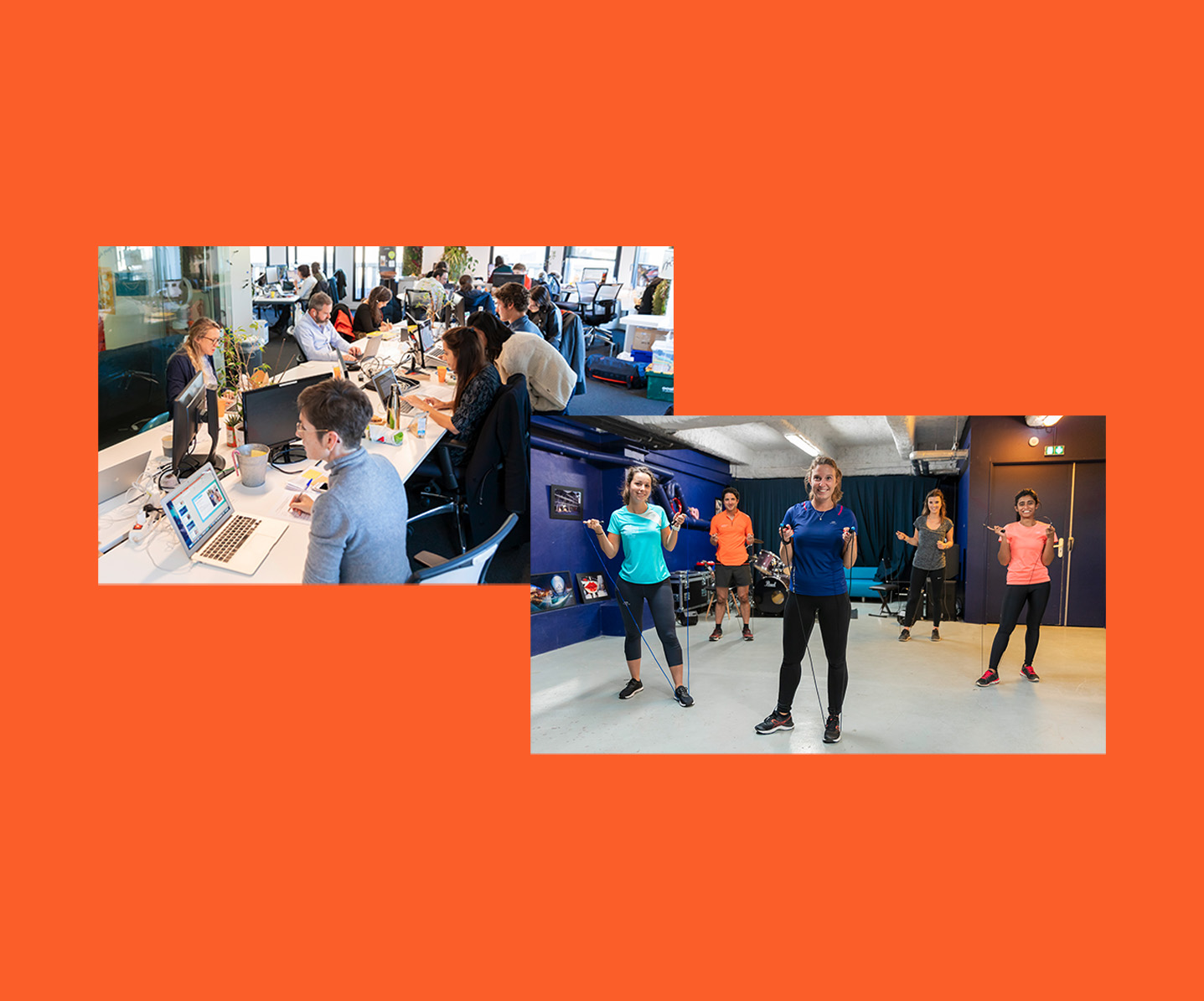 A day in the life of our communication agency in Paris
Welcome to our open space, where at any time, the atmosphere can be as staid and serious as it can be unconventional.
Set up in flex-office mode, it was designed to guarantee that everyone can find a spot right next to the project team they need to discuss with over the day. The offices are all identical and open to any employee, whatever their speciality, title or status: from interns to freelance talents or other professions at the agency. This freedom infuses the air with a different dynamic each day, while also enabling true autonomy and flexibility throughout the everyday. The concept does not preclude, and rather the contrary, anyone finding a spot away from the group, if needed, to draft documents, make telephone or video conferences, etc.
Clients and key suppliers are welcome to come work right in our offices, in a co-working spirit, whenever they like.
The office life is dotted with special events several times a year organised by the "Happy Committee", composed entirely of volunteers, who serve for a one-year period. Another in-house talent transforms into a personal fitness coach for the team every Wednesday evening, offering jumprope sessions. The Group's Hopcases and weekly experience-sharing meetings are just a few of the other rituals that pace our weeks, combining as always Smile and Success.