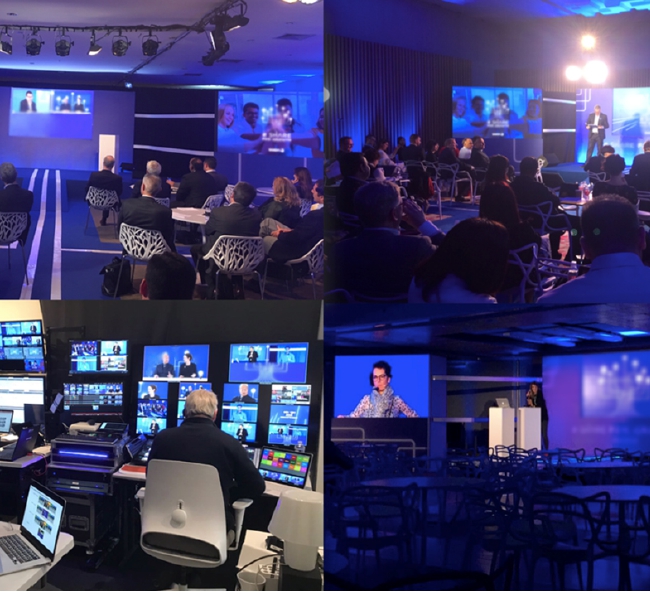 Pharmaceutical
Pharmaceutical
250
Brazil, France, Spain, China
"Three venues but one single meeting experience: We did it. Together!

Equipe communication
A multiplex convention on 3 continents
To design a high-impact event, bringing together the 250 Top Managers worldwide for their annual autumn meeting. The challenge: illustrating the new working methods that have resulted from the company transformation.
To design a high-impact event, we organised a 2-day multiplex convention on 3 continents. The result: 250 Top Managers physically connected on 3 continents and connected remotely in multiplex, at the same time, over 2 x 2 hour time slots for keynote sessions, plus round tables with question / answer sessions. A technical system and an identical set design for all the sites with a technical control centre and studio based in Paris. The high point was a connected, musical team building event: an orchestra in which the Top Managers sang and played with each other at a distance, all conducted by a conductor present on one of the 3 sites.
We supported our client in a unique adventure, implementing an ambitious technical system. It was a success as the participants very quickly felt that they were experiencing the same event, together.
We enjoyed a very moving moment when the 250 Top Managers played (nearly perfect) and sang (at the top of their voices) Carmina Burana, some in Brazil (at 8am), others in Europe (at 11am) and the last ones in Shanghai (at 6pm!).
We experienced an incredible, internal human adventure with an intensive, very short preparation time (2 months) and teams in the four corners of the world for an event that, due to time differences, spanned day and night!
Motivating staff remotely and using digital to produce a live performance can be done! A successful event thanks to co-building and 100% trust from our client.
Do you want to find out more?