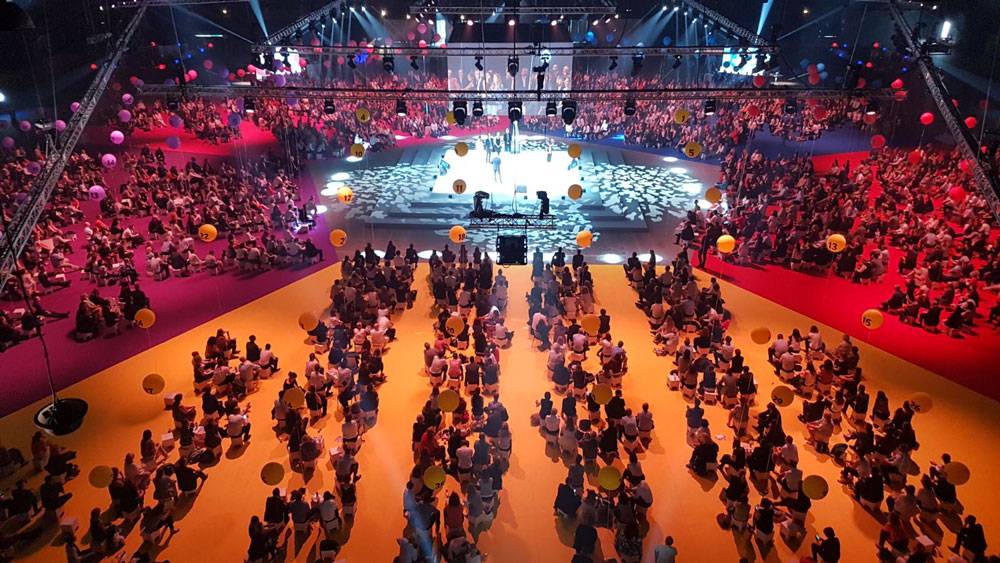 Bank
Banque Populaire Val de France
2000
Tours Exhibition Centre
"What you accomplished in 150 days and this afternoon was beyond anything I could have dreamed. You were astounding!

Luc Carpentier

Managing Director of Banque Populaire Val de France (addressing employees on stage)
A 100% co-built event with Banque Populaire Val de France!
To showcase the energy collectively shown by employees about the strategic transformation plan.
To build a convention similar to the transformation plan put in place by and with the employees (posting projects via Yammer, creativity workshops, Hackathon, etc.) and align with the MD's ambitious challenge ("150 days to transform the bank"), we supported our client in their co-building approach: brainstorming to define what the event should be and designing the project with the client project team.
The result: a unique "non-convention", full of energy, organised over one day, with build-it-yourself furniture, 200 clusters of 10 people for collaborative working & creative sessions, testimonials from employees – and clients! – on how they are already experiencing the transformation, an employee talent show and a DJ session in the middle of the afternoon!
The event was co-built A to Z, adapting our agency posture to become a full member of the project team launched by our client.
We're proud of the unique relationship of trust we've created with our client.
We really laughed – on the other side of our faces – when we had to dismantle the 2,000 chairs and low tables at the end of the event!
We loved the incredible energy generated by the final applause of the 2,000 employees.
We went into a cold sweat when we had to call on a falconer to dislodge a pigeon that had decided to take a ringside seat at the convention!
Getting 2,000 employees on board for the new company project with a 100% co-built event, in only seven weeks, can be done! This kind of success is not down to chance; it owes everything to agility, communication and mutual trust. A recipe that can be reproduced again and again.
Do you want to find out more?