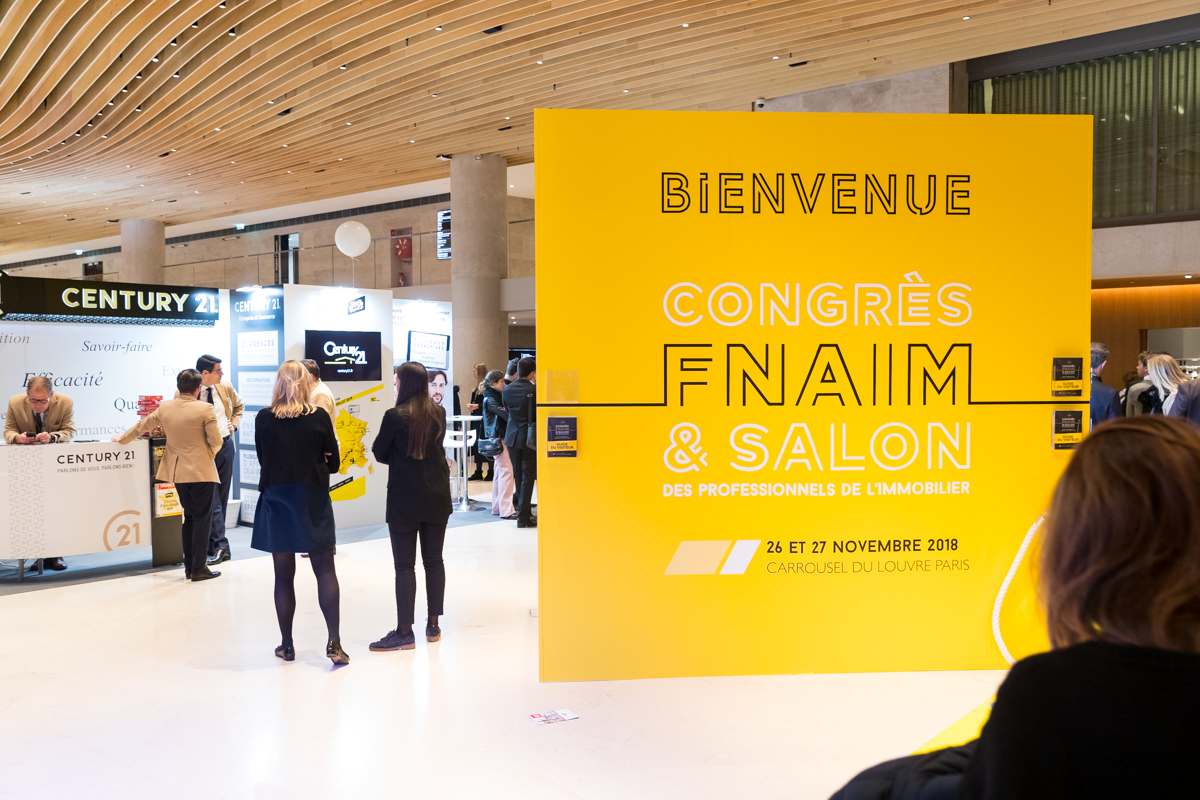 Real estate
FNAIM
2,500
Paris
"Many thanks to everyone on the Congress team, which made this event a success. The marks of satisfaction are pouring in from all corners.

François Moerlen

Deputy Chairman, FNAIM
Bringing together real estate professionals, giving them the keys and inspiring them
The National Real Estate Federation consists of 13 real estate associations. Every year, 3,000 members come to its annual conference in Paris. How to get as many members as possible to come to this essential event, combining inspiring plenary sessions with practical solutions How to renew the format and innovate in a new place, the Carrousel du Louvre How to support the FNAIM for the 7th consecutive year And how to redesign the model to help the Federation break even
We designed a signature theme to launch the activities and connect the Conference with the Trade Fair. A set design that reflected connection and movement, in particular by enlarging the proscenium of the Le Nôtre space. Plenary sessions with simple, participative solutions, interactivity, bringing the FNAIM family together, focusing on the elected officials and members, and energising the sequences. Research, coordination and coaching of around 20 high-level speakers (FNAIM, experts, MEDEF, Minister, Members of Parliament, etc.). A very strong final event to bring together and motivate the profession. Varied, practical content in the Trade Fair part (150 exhibitors) with workshops (50 speakers, 3 keynote spaces) managed within the exhibition via headsets.
After six editions, we were able to renew the concept and support the new FNAIM team, in a new place… by designing a new format.
We put on some very participative, exciting sequences to bring people together, make an impression and represent the new Presidency of FNAIM.
We adapted to some last-minute changes (Minister's agenda, etc.).
We were proud to welcome some well-known personalities such as Julien Denormandie, Geoffroy Roux de Bézieux, Gilles Babinet, etc.
We were delighted to send 2,000 balls of wool to the charity Amis Sans Frontières, which helps mothers in difficulty. We were proud of the President's message: "How wonderful to find so many balls of wool!"
We went into a cold sweat when the FNAIM General Meeting taking place in the same room was still going on 45 minutes before the Conference was due to start and we had a technical reconfiguration and set design to sort out!
The FNAIM event is a good example of Sagarmatha's ability to combine a Conference Space with a Trade Fair Space (150 traditional stands and exhibitors), a powerful lever for connecting the event to the FNAIM stakeholders (partners, suppliers, networks, media, etc.) and mixing communication, meetings, practical solutions and services, business opportunities… and a financial partnership for setting up the event.
Do you want to find out more?