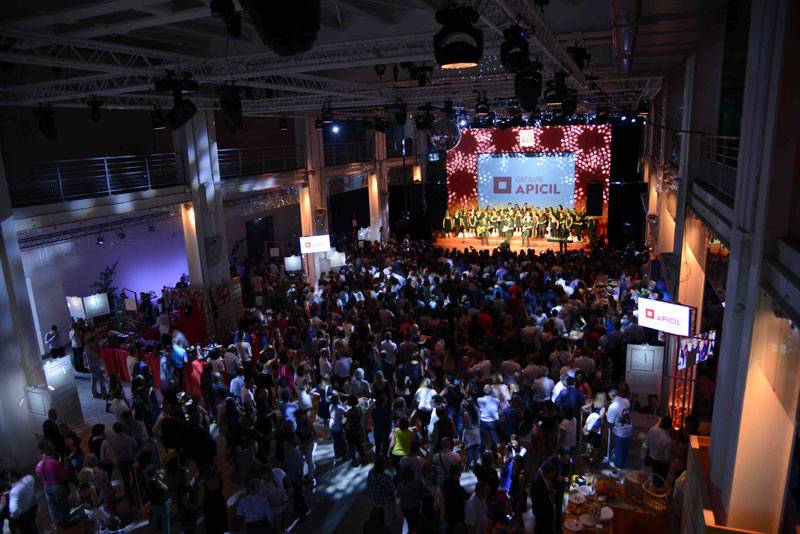 Healthcare
APICIL
2,200 internally and 1,000 externally
La Sucrière, Lyon
"An eight-month project to celebrate our 80th anniversary! We found it hard to say goodbye when the project came to an end. The Sagarmatha team successfully supported us, with flexibility and discipline, throughout the adventure. Every last detail was catered for, to the utter delight of our guests, customers and employees, who were amazed by both these evenings. What matters to us is the satisfaction of our guests. The many thanks we have received proves that our goal was met.

Nathalie Quarti

Events Manager
Uniting and growing internally and externally for an 80th anniversary!
To celebrate this key moment representing the company's 80th year with two events, internal and external, using the opportunity to align the whole company with a common, coherent vision that is meaningful to all. To unite the internal teams, introduce the milestones of a common culture and a "Group" operation with 2,200 employees. Showcasing the Group to 1,000 customers, partners, directors and investors through remarkable moments.
We suggested the slogan "We haven't finished growing yet!", a way of joyfully opening up to the future, based on a history and values embodied by united teams. We built a succession of exciting moments around two similar evenings, focusing on internal audiences and external guests. Before the events, the internal staff were involved in putting the evenings together: shooting a film, finding musical talent, highlighting employees' passions in a photo wall, and a "retrospective" exhibition. To trace the history of the Group, we worked with a troupe of dancers to produce three unique, spectacular tableaux for an acrobatic show, the highlight of the two evenings. On site, an adaptable set design highlighted APICIL's new visual identity. In terms of food… in a reference to the APICIL Group's roots in Lyon, all the catering was presented in a "Halles de Lyon" (indoor market) style buffet. Finally, to make the most of the beautiful weather and the view, we arranged an outdoor space along the Saône, like a chic "guinguette" outdoor bar.
We organised a quirky interview with the Mayor of Lyon by the columnist Vincent Dedienne…
We never thought we'd be able to turn all the ingredients of our initial proposal into reality.
We're proud of the smiles on the photos and the many thank you emails! And proud that we met Damien Seguin (Route du Rhum 2018) which the APICIL Group sponsors.
We loved these eight months of monthly internal comms actions, which never seemed to stop!
We went into a cold sweat about the enormous set-up and rehearsals to be done in one night!
A company built around a sincere, solid history, ready to reinvent its future, must be able to express its vision and alignment with the same conviction to all its stakeholders. This expression becomes universal, fostering its internal and external image. The internal and external communication teams therefore demonstrate the power of collaborative operation. At Sagarmatha, the reason we chose this job is to experience such moments: creating activities that have meaning and forming wonderful relationships that make us grow too.
Do you want to find out more?