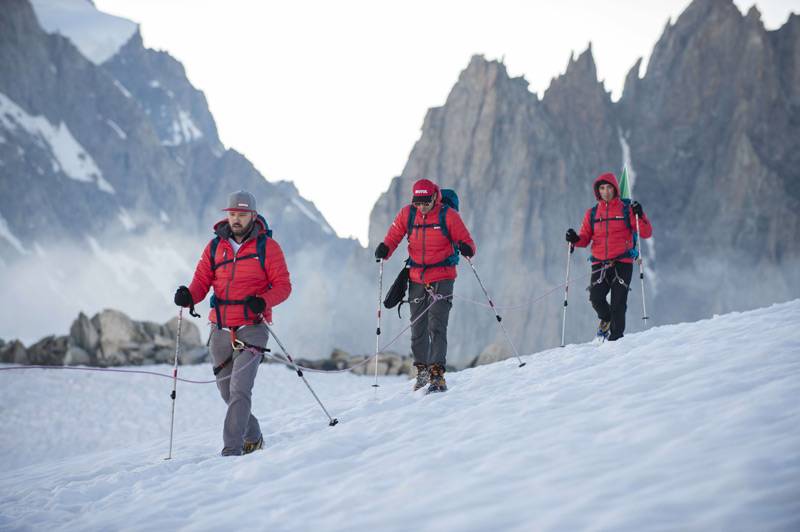 Industry
MOTUL
5 trips of 40 to 60 people
Oman / Lapland / Panama / Corsica / Mont Blanc Region
"During these 5 editions we created team spirit, and from there the "GENS" Community was born!

Hélène Zaugg

Director of Communication
Uniting the MOTUL community through amazing trips
Bringing together and uniting the MOTUL community: the Gens (Roman concept of the family – including employees, clients, partners, distributors, fans of the brand) to create a community spirit and business synergies between its members. Finding 5 dream destinations, hubs where business synergies can be developed. Creating a dynamic event, during which you can work and also have a unique, unforgettable, bonding experience.
Hopscotch Travel and Sagarmatha worked together to create a series of 5 missions: MOTUL GENS for distributors all over the world. We devised scripted trips in a mission impossible style. The first time you open the app on the invitation iPad, you can read the mission once… after that, it self-destructs!
A genuinely interactive 3-day roadbook, the iPad was used throughout the adventure, a mix of team building, nature activities, unusual nights, adrenaline and motor sports. The iPad was also used to invite participants to 2 daily flash meetings… We offered unique, highly bonding activities: a zip wire above a canyon in Oman (2013), diving under ice in Lapland (2014), canoe racing against the Amerindians in Panama (2015), a soap crate race against the inhabitants of a Corsican village who joined in for the occasion (2016) and even crossing the Mont Blanc massif on a rope (2017).
We created extraordinary programmes with original activities, authentic, bonding encounters and genuinely unusual nights!
We never thought that the owner of the deserted island we had hired to spend a night under the stars in the heart of San Blas would pinch the lobsters we had prepared for our guests' dinner!
We laughed when we remembered the endless list of problems we encountered in each destination and each programme. We laughed and we learned at the same time!
We went into a cold sweat when we had to take our technical equipment through customs in Oman and Panama!
Incentive trips can create thrilling sensations. They make you seek excellence in total safety – "no risk no fun". Creating adventure and controlling risks is not easy to do! Because "alone we go faster, together we go further", Sagarmatha and the Hopscotch Travel team have co-produced these unforgettable moments, which teach you a lot about yourself and others, helping your staff to grow…
Do you want to find out more?