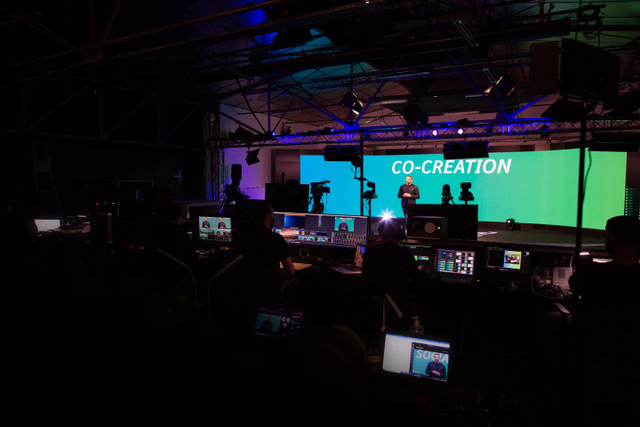 Healthcare
Pharmaceutical industry
1,500 people connected for the 2 sessions
Lyon
"A huge THANK YOU to all of you for your commitment and your support which were the keys to the success of this 2021 edition!

Head of communication
90 minutes to get together, even remotely, and share thoughts on the company's CSR strategy
In the midst of the COVID sanitary crisis, how to replace the major annual event that usually gathers 2,000 employees across France? How to make the event all about the company's CSR strategy?
We turned this major event into a 90-minutes live broadcast, both the format and content were dedicated to CSR.
A dynamic program that we calibrated with alternating live sequences, videos and interactive sessions. We imagined a very human live show that started beforehand by asking employees to participate in a video about their CSR awareness.
To inspire and engage the teams, we produced a video on three employees to highlight their approach and their daily CSR actions with associations, business partners or within the company.
We thought of this program as a responsible production by choosing a well-equipped studio as close as possible to our client's office – 0 manufacturing – we even included the carbon footprint and offset.
As part of our inclusive approach, we set up structures and technology on 4 sites in France to allow all employees, including those on call, to follow the show.
We are very proud to have produced a show in line with our client's CSR strategy, and to have this performance promoted through a post-event newsletter.
We took up the challenge of meeting all the Health, Safety, and Environment constraints: COVID crisis and intervention on sensitive production sites! And it wasn't a piece of cake!
We were thrilled to collaborate with the brilliant and professional journalist Hélène Gateau, who knew how to bring rhythm and energy and always had a kind word. 100% matching the CSR focus of this event!
We dived into the IT topics, hand in hand with the client, in order to connect 2,000 employees and several production sites to the live: what a challenge!
In a digital event, what has the most impact on the carbon footprint isn't the number of connections (1,500) but the meals of the speakers and the team who are in the studio!
The low carbon footprint of this event is a reliable performance indicator in the context of our ISO 20121 certification! And a model to follow for our future live shows! Sustainable event management is in form and substance!
Do you want to find out more?